Zeus and Roxanne
Theatrical Release:
February 3, 1997
DVD Release:
February 3, 1997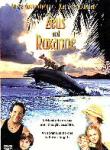 Synopsis
When a friendship develops between a scrappy family dog and a wild dolphin being monitored by the marine biologist next door, the two single-parent families develop a deeper respect for their blessings in life.
Dove Review
Set in the Florida Keys, a marine researcher discovers that her next door neighbor's dog can somehow communicate with the dolphin she is studying. She's a biologist with two girls from a former marriage. He's a widowed artist with a precocious 10-year-old boy. It doesn't take long before the kids are nudging the grown-ups into a relationship. Soon, the scenario becomes the standard artist-meets- researcher, artist-loses-researcher, and with the help of a water-loving mammal and a scruffy pup, artist-wins-back-researcher. Of course there's a villain thrown in to gum up the works. He's also examining our aquatic friends and would very much like to have our heroine's government grant. His plan – to steal Flipper, whoops, that's Roxanne. I got my dolphin movies mixed up there for a minute. But not to worry. Zeus is there to foil his agenda. The film is so gentle, many 90s movie goers may find it boring, but there's enough action and positive family relations for little ones. Beautiful Sunshine State locations serve as a daydream vacation for accompanying adults.
Content Description
1 mild expletive; some attitude from the teen daughters towards their mother, but it becomes apparent they are a close knit family.
Info
Company:
MGM/UA Home Video
Reviewer:
Phil Boatwright