Revenge Of The Pink Panther
Theatrical Release:
July 19, 1978
DVD Release:
March 23, 1999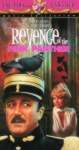 Synopsis
"Like the marx Brothers of W.C. Fields, Peter Sellers is the real thing" degree Newsweek, and in this hilarious homicidal howler, his brand of comic mayhem explodes with all the power of a "beum!" The world believes the bumbling Inspector Clouseau (Sellers) has become the victim of Douvier (Robert Webber), an American drug lord in Paris, who has blown the hapless inspector's home into a million pieces. At the funeral, Inspector Dreyfus (Herbert Lom) eulogizes his former subordinate with tears in his eyes – from attempting to suppress his unparalleled glee! But it is Clouseau who has the last laugh. Very much alive, he and his faithful servant (Burt Kwouk) travel to Hong Kong with the drug lord's discarded mistress (Dyan Cannon) to investigate Douvier and a heroin deal worth 50 million francs. But can Cluseau, disguised as the Godfather, intercept the deal? Will Inspector Dreyfus, who's also on the case, see past the disguise in time to avoid killing his subordinate…or will he just kill him anyway?
Dove Review
Compared to the new version of "The Pink Panther," starring Steve Martin, this film sadly looks dated and doesn't have enough good moments. This was the next to last "Pink Panther" film starring Peter Sellers, who passed away a short while after the release of this film. The film's best moments include Inspector Clouseau, but the plot moves so quickly into various directions and comes across a bit convoluted.
As far as this being a famiy-friendly film, there is a character who sleeps with his secretary, although they are shown with clothing on and it does not show a sexual relation between them. However, it is implied. Due to the fact that it also shows some scenes in a house of prostitution, and is heavy on cleavage and domination, and it also includes a lot of sexual innudendo, the film falls short of eligibility in Dove's approval range.
Info
Company:
MGM/UA Home Video
Reviewer:
Edwin L. Carpenter