One Amazing Night (Book)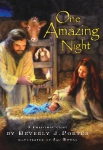 Synopsis
One Amazing Night invites children into the life of an industrious and observant shepherd boy on the very day of Jesus' birth.
Dove Review
One Amazing Night brings the story of Jesus' birth to life from the intimate perspective of the shepherds who first heard the joyful news. Narrated by a young boy, the 34 page picture book follows along as he happily works alongside his family, explaining the details of how a shepherd cared for his sheep, ate, and slept. When angels light up the sky and proclaim Jesus' birth, readers will experience both the excitement and fear felt by the shepherds as the brilliant band of angels shares the profound message. The shepherds find the stable the angels directed them to and stand in silent awe of seeing the sweet Christ child.
One Amazing Night is a beautifully done book that 7-10 year-olds can pick up and read themselves. The rich illustrations by Jan Bower are thoughtfully developed to help the author accurately recount aspects of Christ's birth from a child's point of view. This heartwarming story is careful to proclaim the Gospel's account of Christ's birth–the angels' speech is quoted from Scripture and specific references to Scripture addresses are given. The book's historic and linguistic details are educational for us all as the author shares the meaning of a few Hebrew words like Abba (father) and Dod (uncle). Reading One Amazing Night to your kids this Christmas season could easily become a tradition cherished by your whole family. Dove.org awards One Amazing Night the Dove Seal of Approval for All Ages.
The Dove Take
One Amazing Night is a wonderfully illustrated story for families that presents an enriching and authentic angle on the night that changed history.