Nick Stellino – Storyteller in the Kitchen
DVD Release:
February 18, 2017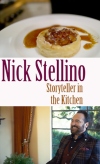 Synopsis
For the first time, Chef Nick Stellino invites viewers into his home to experience the recipes nearest to his heart in the 13-part series Nick Stellino: Storyteller in the Kitchen. Throughout the program, Nick travels down memory lane to revisit dishes inspired by his childhood and family in Sicily. He demonstrates step-by-step instructions and easy-to-follow techniques, bringing Italian classics to life in a way that allows viewers to prepare new chapters in their own culinary experience.
Dove Review
Nick Stellino, a world-class chef and restauranteur, stars in this fun and engaging cooking show. He opens each episode with a little story about his culture and often his family, accompanied by jazzy music, and therein are smaller segments where he continues to develop his storyline while he transitions to his next dish. In one episode, for instance, Nick tells about his obsession with a specific spoon, and at the beginning of each new segment within that episode, he explains a bit more about this, revealing how his wife argues with him about the spoon and eventually buys him a new one that will not scratch their pans. (Nick is Sicilian and does things his own way.) He shows exactly how to prepare easy-to-make Italian dishes that are mouth-watering.
Nick's recipes are, indeed, quite simple, such as a shrimp linguine that only has five ingredients, and sausages in tomato sauce, which only have three ingredients. Even dishes that seem a bit more complicated look easy through his tutorial. Nick values basic flavors that imbue other ingredients to create classic dishes, and he often has his own twist on how to execute this—such as, he does not recommend browning sausages before adding them to the tomato sauce. This way, the juices will not be lost in the pan and will instead emanate into the sauce for a richer flavor. Likewise, he suggests slightly undercooking pasta and then adding it to whatever sauce is being prepared, continuing to cook the pasta for a few minutes before serving, so the flavors of the sauce can infuse it and the dish "becomes one." In fact, he is constantly talking about how cooking and eating have almost spiritual qualities and likens these to emotional experiences, art, relationships, and culture. He says that "each ingredient has a presence and tone of its own," and how plating food is like making a painting. He says, "The dishes you make have an aspect of who you are and how you feel about the world."
Nick is funny and candid, but the camera is almost wholly focused on the food and how he is cooking and adding ingredients, which is a very good thing, as it keeps the viewer focused. He talks to us while he uses various utensils; his voice is engaging and entertaining as he educates us about the continuity of flavors and how aspects of ingredients complement one another. Like Nick himself recommends, "come for the recipes, stay for the story!"
Nick Stellino: Storyteller in the Kitchen is Dove-Approved for All Ages.
The Dove Take
This Sicilian chef is fun to watch; his educational segments fly by and tempt you to view more, which are filled with innovative ways of doing things, classic tips and tricks, and simple, approachable recipes.