The Andy Griffith Show
DVD Release:
January 1, 1963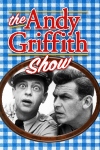 Synopsis
Widower Sheriff Andy Taylor and his son Opie live with Andy's Aunt Bee in Mayberry, North Carolina. With virtually no crimes to solve, most of Andy's time is spent philosophizing and calming down his cousin Deputy Barney Fife.
Dove Review
The Andy Griffith Show is a classic for a reason—it's funny with wholesome, delightful characters that live in the wonderful little town of Mayberry, North Carolina. The laughs are plenty in this entertaining classic with stories that still ring true today. The two episodes featured in this review are titled "The Loaded Goat" and "Class Reunion".
In "The Loaded Goat" the laughter reaches a high peak. A friend of Andy's, Hudge, short for Mr. Hudgins, brings his goat into town to the barber shop, thinking no one will mind. Andy lets him know he needs to tie "Jimmy" (the goat) up so he does so outside. Jimmy gnaws the rope knot loose and winds up in a shed where dynamite is stored. When he eats a bunch of it for lunch–and it's discovered–the plot focuses on keeping Jimmy from exploding and it is hilarious. When Otis the town drunk comes in and goes straight to the cell, where they have placed Jimmy, Andy comes in and says, "Otis, one loaded goat at a time is about all we can handle!"
In "Class Reunion" Andy comes across his old high school yearbook while moving some of Barney's things in the garage.. Andy and Barney reminisce about those good old high school days and Andy comes up with the idea to stage a class reunion. Andy winds up seeing his old high school flame, Sharon. They went their separate ways after High School and she now lives in Chicago. Barney can't wait to see his old sweetheart, Ramona, although he hears she has a jealous husband. Both Barney and Andy learn that sometimes things end the way they are supposed to, and that you can't go back.
These two episodes, and indeed the entire series, easily earns our Dove-Approved for All Ages Seal.
The entire series features similar episodes, always with a good moral and Andy's fatherly examples to Opie. In addition, it features Barney's well-meaning intentions which usually result in his fumbling a situation. The residents of Mayberry look out for one another, and their examples hold up well in today's contemporary society. Every episode is sure to delight!
The Dove Take
This is a wholesome, funny, delightful series which teaches morals in a homespun, good old-fashioned way. This series is not to be missed!
Content Description
Integrity:
A character wants to make sure his son doesn't lie; moral lessons about doing the right thing.
Drugs:
A few brief smoking scenes; a couple of drinks, including a beer, are ordered at a restaurant; a harmless town drunk puts himself in jail and it's played for laughs.