Bubblegum Fairies Valentine's Day Sing-a-long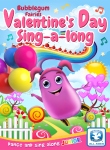 Synopsis
The Dove Take:
Bubblegum Fairies Valentine's Day Sing-along is a dance and sing video that seeks to entertain very young children. However, some of the tunes are more like lullabies.
Dove Review
Synopsis
It's Valentine's Day, and all the loveable characters of Valentine's Land are having a special sing and dance party to celebrate!
The Dove Review
This Valentine's Day video will get pre-K children dancing and singing for a short while as they follow dancing hearts and different animated characters. Two Valentinesville fairies, Cherry Chew and Peachpop (looking more like odd-colored gum wads), seek and find their good friend Berrybuns the blue caterpillar so they can enjoy happy Valentine's Day songs together. Unfortunately, Berrybuns looks more like scary buns and might not sit well with very small kids. Together they introduce the dancing musical segments. A few numbers feature upbeat tunes encouraging little ones to move with the dancing figures, but the video features too many slow, uninteresting songs to keep attention going. A small number of songs are recognizable but lack the energy to sustain the focus of children. The song accompanying the credits is one of the better songs in the piece. About 40 percent of the video is solely 60s background heart art coupled with slow-going instrumentals. It might be useful in putting kids to sleep.
In actuality, Bubblegum Fairies Valentine's Day Sing-along is clearly the concerted effort of a entry level music video/graphics class at a junior college somewhere. Even so, the Valentinesville setting is rich in color, a beautifully layered place to explore. Because very small kids can easily watch this video, THE Dove Foundation gives it the All Ages seal.
Info
Company:
WowNow Entertainment