The Intolerant Cooks, Season 1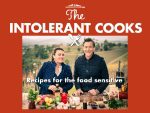 Synopsis
The Intolerant Cooks is a show for people who love to cook and eat but may struggle with issues like lactose intolerance, weight, and gluten. It is this dynamic duo's goal to create food that is easy and fun to make! They consistently visit local farms and use their ingredients to cook appealing recipes on site.
Dove Review
The Intolerant Cooks is a fun Australian cooking show starring opposite personalities Tracy Bartram and Richard Barassi. These two play off each other so well: she, larger than life, brings comedic relief to each episode, while Richard, the more learned one, is reserved, he appears to be the instructor to the viewer and Tracy as well. This duo has a lot of fun together. Their focus on healthy, lactose-free and gluten-free cooking that is simple and accessible is inspiring, and the food looks out of this world!
In two episodes, titled Kiss and Tell and Get Lost, which we used for this review, Tracy's and Richard's strategy becomes clear: They typically visit some kind of sustainable farm, learn a bit about the farm's mission, and then use their local ingredients to cook the recipes on site. They also end up in their kitchen cooking one last main dish.
The first stop for this team of chefs in Kiss and Tell is a place called Working Farm Hothouse in Gateway Yara Valley, where they focus on the strawberries and peppers being grown there. On site, they make a strawberry compote with a variety of seeds and lactose-free yogurt, as well as a mouth-watering beef salad with fresh peppers and other vegetables—all the while joking around and discussing the value of what they are doing. They end in their kitchen with a slow-cooked pork sausage pasta that looks fresh and delicious.
Likewise, in Get Lost, Tracy and Richard visit the Tahbilk Winery, where they use the farm's wine to make a slow-cooked chicken. They go wine tasting from the barrels; the viewer does not witness them drinking wine at that time, though their feast at the end with several others shows a couple of people take a sip of wine with their meal.
They also go for a drive to Di's Rhubarb Farm and learn the best way to prepare and eat rhubarb. They then make their own ricotta cheese that is an ingredient for their gluten-free rhubarb torte, which looks incredibly inviting. Their last item is a scrumptious looking slow-cooked pork curry with coleslaw made in their own kitchen.
Dove awards The Intolerant Cooks the Dove-Approved Seal for All Ages.
The Dove Take:
This fun couple is easy to watch as they travel the Australian countryside using fresh, local products to make easy recipes that are healthy for everyone, while inspiring the viewer to learn from their example and make this inviting food on their own.
Info
Industry Rating:
Not Rated