2 Hearts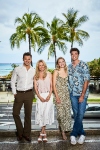 Synopsis
When illness strikes two people who are polar opposites, life and death bring them together in surprising ways.
Dove Review
2 Hearts holds unexpected surprises created by significant plot twists. As we follow two characters' lives that are not seemingly connected with each other, we cannot imagine why these stories are parallel. But the endearing characterization and solid acting, especially that of Jacob Elordi (Chris) and Adan Canto (Jorge) sweeps the viewer into these two men's stories through the ways in which they romance the loves of their lives. The viewer is also busily engaged in following the narrative as it seamlessly jumps back and forth between these separate tales, as well as using flashbacks to develop a dramatic outcome.
The sweet, enchanting nature of these relationships inspires the viewer to root for the couples' success, and I was, indeed, thrilled when the fairytales appear to come true. There is some significant foreshadowing throughout regarding both men's outcomes, but I never guessed how that would play out—the ride of this film is so enjoyable that I was captivated by that alone.
Not all relationships are ideal in this movie, however. Chris's father Eric (Tahmoh Penikett) persists in a stern and harsh manner with his son, which he later comes to regret, and a married couple struggles with the inability to have children.
The resiliency of all these characters to move beyond their challenges and heartbreaks to seek greater understanding, compassion, and purpose is admirable and inspiring.
2 Hearts is awarded the Dove-Approved for Ages 12+ Seal, cautioning that this film is intended for a more mature viewer.
The Dove Take:
The ultimate takeaway of 2 Hearts lies in its message about the sanctity of life and the importance of sacrificial service and unconditional love.
Content Description
Faith:
There is no overt Christian message, but people do pray a couple of times, espousing a faith in God.
Integrity:
Excellent examples of character integrity are present throughout as people make sacrifices for one another in the name of love and compassion.
Sex:
Several on-screen acts of romance that involve kissing; a couple in bed together, covered by sheets, before they are married, with consequences
Drugs:
One scene where drunk girl vomits on sidewalk before she is driven home by responsible lead characters
Nudity:
One scene of shirtless man with low-cut towel around waist; one scene shows a female wearing a fairly skimpy bathing suit.
Info
Company:
Silver Lion Films