Hercules
Theatrical Release:
June 24, 1997
DVD Release:
August 1, 2000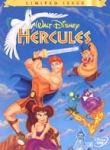 Synopsis
A rollicking, tongue-in-cheek Disneyfication of the myth of Hercules. Forget those legendary labors–this teenage Herc's the goofy and lovable adopted scion of mortal parents, toiling on earth to prove himself to Zeus, his Olympian dad. His demi-god gifts score him money, fame, and product endorsements, but he can't attain full deity (or "True Hero") status–and defeat a jealous Hades–without the help of his satyr friend Phil and the true love of beautiful Megara
Dove Review
Based on characters from Greek mythology about the son of Zeus kidnapped as an infant by Hades, "Lord of the Underworld." Given a potion that will make him human and no longer a threat to the film's antagonist, the baby drinks all but one drop, which, unbeknownst to the bad guy, will allow Herc to regain his immortality. As a muscle bound adult, Hercules discovers he can return to Mount Olympus if he becomes a "true" hero. The narrative moves along with the aid of a Vegas styled chorus, proclaiming this tale to be gospel truth. Some funny moments and Woods is an impressive villain, but the music is not up to previous Disney achievements. The moral – strength of character is more important than physical prowess.
Content Description
Some scary moments as the villain attempts to kill the strong man and we get a tour of Hell. Mom or Dad should be there to reassure little ones.
Info
Company:
Buena Vista Home Video
Reviewer:
Phil Boatwright