Treasure Of Swamp Castle
Theatrical Release:
September 8, 1997
DVD Release:
September 8, 1997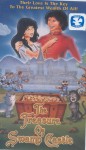 Synopsis
The classic story of lost love and hidden treasure is told in this beautifully animated feature from acclaimed animators Joseph Sefel and Pannonia Film Studios. As heirs to the thrones of two royal families, young Jonathan and Sabrina are destined to wed, until they are separated by war. Years later, as a handsome young man, Jonathan sets out on a quest to find his lost love and to reclaim their fortunes. But the evil governor has taken the kingdoms for himself, and will stop at nothing to satisfy his greed. Armed with truth, honor and a colorful band of gypsies, Jonathan and Sabrina prepare to fight for their wealth, only to discover that their love is the greatest treasure of all. This award winning fillm combines action, adventure and romance, with spectacular imagry that the entire family will enjoy time and again.
Info
Company:
Plaza Entertainment, Inc.
Writer:
A. Dargy
, J. Nepp and I. Romhanyi
Reviewer:
Carol Verbrugge