Swan Princess; Escape From Castle Mtn
Theatrical Release:
July 22, 1997
DVD Release:
July 22, 1997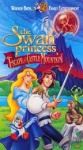 Synopsis
Prince Derek and his friends–lovely Swan Princess Odette, Jean-Bob, Speed, and Puffin–return to defend their kingdom from a new interloper, malevolent magician Claudius.
Dove Review
This sequel is not up to its predecessor, but a diverting musical entertainment for wee ones. Before they can live happily-ever-after, the Prince and Princess must face new trials and a new villain. Here the evil Clavius is after the Magic Orb kept in the royal castle. With its power, he can "create, change, rearrange and destroy", making him a feared ruler. With the help of a witch, our heroine must change herself back into a swan in order to help save her husband.