Pippi Longstocking Movie
Theatrical Release:
October 7, 1997
DVD Release:
October 7, 1997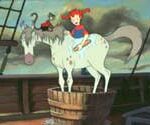 Synopsis
A number of films have been made about Pippi Longstocking, a fun loving, freckle faced 11 year old girl with long red pigtails. This latest one is a colorful animated cartoon and starts on board a ship where Pippi and her father have spent much of their lives sailing the seven seas. But Pippi goes ashore to live for awhile by herself and takes up residence in an old house her father owns. And she shares it with two faithful companions, an old horse and a lively monkey. She soon makes friends with a young boy and girl who live nearby and they share some fun, adventures together. She even visits their school, but just disrupts classroom activities and goes on her merry way. All this activity is accompanied by lots of cheerful, happy musical numbers and dancing. But two bungling policeman are constantly trying to put her in a children's home and two comical guys keep trying to steal some gold coins in her house. The animation is first class and the musical numbers entertaining, but the overall pace may be a little slow for American children. Even so, it will particularly appeal to young girls between the ages of 4 to 11.
Dove Review
This G-rated film has virtually no offensive elements and features a cheerful, happy atmosphere. Although Pippi is very independent and tends to resist the guidance of adults, she is kind, pleasant and likes people. Her lifestyle might influence young viewers to disobey their parents, but the film shows how a young girl can care for herself, be happy and content and share a loving relationship with her father. And, eventually, she and her father decide she should settle down to a more orderly life on shore. All of the comical antics in the film contain some mild slapstick violence, but no serious injuries. Some of the characters are hit on the head, thrown around, dunked in water, trip and fall, have a gummy black substance and some heavy objects dumped on them, and have a hand mashed by a trunk lid. But, overall, PIPPI LONGSTOCKING is a fun, happy, film for youngsters with some positive messages.