Wilbur (Series, 3 Tapes)
Theatrical Release:
October 27, 1997
DVD Release:
October 27, 1997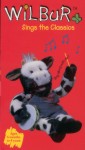 Synopsis
WILBUR TEACHES THE PARTS OF THE BODY
Where's your nose?
Where's your ears?
Where's your eyes?
Wilbur teaches the answers to these questions in an engaging and intersctive format. Cute kids, adorable animals and other fun surprises help to illustrate and teach ten parts of the body.
WILBUR VISITS THE FARM
Take your child on a magical barnyard adventure
With a cast of adorable children and frolicking farm animals, Wilbur the calf takes your young ones through the magical barn doors and teaches them to recognise 14 different barnyard friends and to imitate the sounds they make. The interactive format encourages your children to learn some of their first words.
WILBUR SINGS THE CLASSICS
Learning to sing the words to your favorite classic baby songs has never been so much fun.
Join Wilbur and sing, dance, play and laugh to these all-time favorites:
– Mr. Sun
– Itsy Bitsy Spider
– Pat-A-Cake
– Old MacDonald
– Mary Had A Little Lamb
– Row, Row, Row Your Boat
– Skidamarink
– Twinkle, Twinkle, Little Star