Baby in a Manger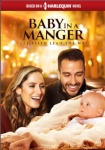 Synopsis
Christmas is about a miracle baby, but when CPS agent Alison and police officer Brock find a lost baby lying in a nativity scene, it'll take a miracle for them just to stop bickering. Can the magic of Christmas help this baby find a home — and maybe even help Alison and Brock see each other in a different light?
Dove Review
Another miracle takes place in a manger! This creative and original story focuses on Christmastime and the Christmas program at church. A few things go wrong as it will when kids are involved: one kid's halo falls off her head, another sees his mom mouthing words to him from the audience and responds with, "I know, Mom!" However, the biggest surprise in the program happens when the power goes off for a few seconds and when the lights come back on…there is not a doll in the manger portraying baby Jesus but a real-live baby! What happened?
Alison (Monica Knox) from Child Protective Services begins to investigate, suspecting the real mother did a switch when the lights were out. But why? Does she not want her baby? Or, is it the opposite situation and she wants someone to care for the baby in a way that she can't? Police officer Brock (Michael Morrone) claims he is the one to find the answers, but Alison objects and the two butt heads for a while. However, there is an undeniable chemistry between them, and the audience will soon wonder if this bombastic energy between them will turn into something more than fellow workers interested in the welfare of the baby they come to call "Joy." When Alison tells Brock, "You're not a jerk," he replies, "That's almost a compliment." They both care for Joy as they continue to explore the mystery surrounding her and where she came from.
The priest makes a comment about the importance of helping others, and Alison and Brock have supporters along the way, hoping for a happy ending to baby Joy's story. Alison also learns that Brock was abandoned by his mother as a boy and he is harboring feelings which need to come out. Due to some arguments between characters and a few sophisticated themes, we are awarding our Dove-Approved Seal for Ages 12+ to the movie. Parents should consult the content listing as some kids under the age of 12 would be fine viewing this inspirational movie.
The Dove Take:
This wonderful movie contains virtuous themes of trust, hope, and forgiveness. It is not just a Christmas or holiday movie and well worth watching any old time!
Content Description
Drugs:
There is a comment about an aunt giving three toasts and it's implied she feels a bit inebriated.
Other:
There is tension and a few arguments between a couple over proper procedures in handling an abandoned baby; a priest says there is really no right or wrong in many circumstances—you just help people—although he doesn't say anything about making peace with God through Christ; the theme of Christ coming to save and give us hope is definitely in the movie and he says later he has to listen to his "boss."
Info
Company:
Brain Power Studio Inc.