Jungle Boy
Theatrical Release:
July 10, 1998
DVD Release:
July 10, 1998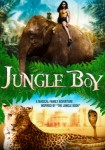 Synopsis
Many years ago, in a far away land, a boy named Manling wandered into the jungle. Raised by his monkey friend Mantoo and elephant friend Bono, Manling became brother to all animals. His animal friends talk to him about the ways of nature as he grows up in their home. But when humans threaten to steal the treasure of the jungle, Manling swings into action to save the day.
Dove Review
The story of "Jungle Boy" has been told in many different versions. Here is the 1998 version and the story never changes much. In this tale animal's talk like humans to the young boy Manling and when he does encounter other humans, he picks up their language and understanding quite fast.
It also must be said that this takes place in India and their customs along with their beliefs are represented in this movie. They have the ritual of the Night of Davia who is the protector of the jungle, and there is a comment that the "Great Mother will Protect Him", meaning that the jungle will protect Manling. In the end it comes down to a story about a boy raised by animals in the jungle, which is pure of heart and becomes the guardian of the jungle to protect it from evil greedy men. Although this is a fantasy movie, there are some scary scenes that may frighten younger children. With that being said, we award the Dove "Family-Approved" 12+ Seal to this film.
Info
Company:
Echo Bridge Home Entertainment
Industry Rating:
Not Rated