First Impressions: Letters
Theatrical Release:
July 24, 1998
DVD Release:
July 24, 1998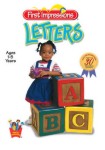 Synopsis
This DVD will enhance the child's natural desire to learn in this fun-filled adventure through ABC's. This video cultivates early-learning skills by associating letters with familiar objects, animals, toys and children. Friendly voices and happy music help capture the child's attention and introduces the wonderful world of letters in a way the child will find irresistible!
Dove Review
The "Baby's First Impressions: Letters" DVD is a wonderful way of introducing your child to letters, Upper case and lower case. The film contains a lot of repetition when it comes to saying and showing the different letters and words that begin with that letter, which is great for your child to learn from. The film contained many bright colors, pictues, people, upbeat music, etc. I would recommend this film for your child as it contains great learning potential.
"Baby's First Impressions" did a great job of keeping the film interesting as well as educational for young viewers. All the contents are appropriate and leaves no room for mom to worry about what her child is watching. This film happily receives our Dove approval for all ages.