Lucky Dragon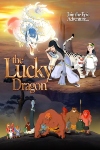 Synopsis
When magic transforms a dragon into a little boy, exiled to live among humans, the forces of good and evil search for him as the only one who can find the magical sword whose owner can rule the universe.
Dove Review
Lucky Dragon showcases an original story yet features familiar themes of magic, good versus evil, romance and even a mischievous dragon transformed into a little boy. The movie is bold in concept and brilliantly executed with vivid colors, memorable characters, sword fights and animals of all kinds (or are they human?). The plot contains a surprise ending that leaves viewers wondering, "What is real, and what is illusion?".
Overall, Lucky Dragon is a rich, fantastic story with concrete human elements, mild name-calling and a few dark, villainous scenes. This film is Dove-Approved for Ages 12+.
The Dove Take:
This movie might well convince you that dragons, magic and civilizations in the clouds do exist! It is fuel for the imagination.
Content Description
Language:
Mild language with a few comments like "You fools" or "You idiot"; "You will die for that, swine!"