Grandad's Revenge!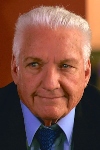 Synopsis
A loving Grandfather, former Marine, rocks the world of his digitally addicted family in a surprising and delightful way, in this comedy.
Dove Review
Dove Review:
A retired veteran and recent widower slowly discovers that technology has taken over his family. His daughter and son-in-law spend all of their time on work computers and conference calls, and his grandchildren live for video games and iPads. These obsessions have taken the place of family time, healthy conversation, and relationship building.
Feeling invisible, he stealths into the night, takes his family's technology, and hides the modern loot in the one place his family never spends time—the family dining room. The next day, the house is a tornado of questions and angry tantrums while everyone stomps around looking for their devices. The grandfather calls a meeting and declares that he has their tech gadgets, but the only way to get them back is to spend the next seven days doing chores, reading books, and creating meaningful conversation with one another.
Begrudgingly, the family somewhat complies to these rules, but before long, they find that relationships mean more than the pretend, surface-level bonds that we have with technology, giving Grandad's Revenge! the Dove-Approval for All Ages.
The Dove Take:
A grandfather uses his military snooping skills to teach his family that relationships forever trump technology.
Content Description
Faith:
One character sings "Count Your Many Blessings"; Mom seen reading Bible; grandchildren encouraged to pray.
Integrity:
Ultimate value of family over modern technology; family taught to do chores, read instead of play video games, and bond with one another through conversation.
Info
Company:
Moving Images Group, Almes Productions
Industry Rating:
Not Rated
Starring:
Clarence Felder
, Myra Jones,
Scott Stawicki
,
George Perrotta
,
Brittny Perrotta
,
Mariah Baideme
,
Katie Catoe
,
John Catoe
,
Maddie Clark
,
Dmitry Hackel
,
Callie Milligan
,
Karen Stawicki