Eyewitness To Jesus
Theatrical Release:
January 8, 1999
DVD Release:
February 8, 2011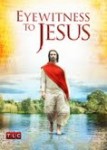 Synopsis
A fragment of papyrus that has recently been re-discovered could be the link that can date the Gospel of Matthew all the way back to a time contemporary to the life of Jesus. The Gospel of Matthew may have been written by someone who actually witnessed events in the life of Jesus, a possible eyewitness to the last supper and perhaps even the crucifixion. Matthew D'Ancona of Magdelene College in Oxford travels from Egypt to the Holy Land in pursuit of the evidence that can prove this papyrus was written during the life and times of Jesus.
Dove Review
This is an awesome DVD with historical significance and it takes you on an actual journey. A man named Matthew D'Ancona, a minister, becomes fascinated with Charles Huleatt's discovery of the Jesus papyrus, which is from St. Matthew's gospel and is dated at approximately 60 A.D. which would be the oldest document of the New Testament and would also reveal an eyewitness period to Christ.
As Dancona stays on the trail of his research he travels abroad to Egypt and Israel and various locations and therefore the documentary is very visual as well as informative. This DVD includes scholarly and historical information as well as great visuals and we are most pleased to award it our Dove "Family-Approved" Seal for all ages.