Americas Godly Heritage
Theatrical Release:
April 20, 1999
DVD Release:
July 4, 2011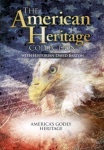 Synopsis
America's Godly Heritage clearly sets forth the beliefs of many of the famous Founding Fathers concerning the proper role of Christian principles in education, in government, and in the public affairs of the nation. The beliefs of Founders like George Washington, John Adams, John Jay, Thomas Jefferson, James Wilson, George Mason, John Quincy Adams, and many others are clearly presented.
America's Godly Heritage also provides excerpts from court cases showing that for 160 years Christian principles were part of official American public life. You'll see numerous charted statistics showing what has happened to America since the courts began rejecting the Founders' beliefs.
America's Godly Heritage is an excellent primer for those who want to know more about what was intended for America by the Founders and what can be done to return America to its original guiding philosophy.
Dove Review
This is an impressive DVD and every family in America should watch this documentary together! Narrator and historian David Barton speaks with the voice of learning as he shares just how strongly our founding fathers believed in the Holy Bible and in being morally responsible and accountable to God through Christ. He gives interesting details such as the reason the Liberty Bell is so named due to an inscription on it from Leviticus 25:10, which says, "Proclaim liberty throughout the land, to the inhabitants thereof."
He supports his claims with quotations from George Washington, Patrick Henry, John Adams, Ben Franklin and others. The camera takes us to Christ Church and we see the pews which Franklin and Washington sat in while attending there. Rev Duche' opened the first session of Congress in prayer and it was said, "It was a prayer worth riding a hundred miles to hear." How often do we hear comments like that these days?
This documentary is filled with facts, several that I did not know, including that Congress approved the printing of the first English language Bible. Barton points out too that many of our founding fathers attended universities and colleges which would today be considered Bible colleges and seminaries. This history-filled documentary makes it clear that the Bible was a book which earned more respect in past years in our government than it does today. Statistics are given which show divorce rates and other family issues skyrocketing since new interpretations of the Constitution and First Amendment have attempted to stifle the Bible's influence in our country. We cannot recommend this DVD strongly enough. We are happy to award it five Doves, our top rating. Watching this DVD may inspire the viewer to hope for another "Great Awakening" for our nation.
Info
Company:
Bridgestone Multimedia Group
Industry Rating:
Not Rated
Reviewer:
Edwin L. Carpenter