A Reindeer's Journey
DVD Release:
November 26, 2019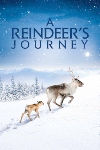 Synopsis
Follow the odysseys of Ailo, the true littlest reindeer whose fight for survival in the challenges that punctuate his first year. His awakening to the wild world is a real tale in the heart of the grandiose and stunning landscapes of Finland.
Dove Review
At the end of each Arctic Circle winter, the reindeer journey down the tundra to the lowlands below to give birth. Sometimes the mothers give birth in the snow before reaching the summer pastures. It is here we are introduced to Ailo, a reindeer calf born in the frigid cold. Ailo's mother was forced to leave the protection of the herd to give birth and now has a difficult decision to make—either leave her newborn calf and return to the herd—or nurture her calf to walk and guide him to the herd. Fortunately, Ailo's mother chooses the latter.
Throughout the rest of A Reindeer's Journey, narrated by Donald Sutherland, we follow Ailo and his mother as they rejoin the herd. During their adventure, they encounter other creatures of the Arctic, including animals of prey. At one point, Ailo gets separated from his mother and the herd but is later reunited. As summer comes to a close, we follow Ailo and the herd as they return to the mountain peak, where the arctic winds blow the snow so it's not too deep and difficult for the reindeer to navigate.
A Reindeer's Journey beautifully captures the winter wilderness of the Scandinavian mountains. The director and film crew endured sub-zero temperatures to follow a herd of reindeer as they embarked on their yearly trek of leaving their normal habitat during migration. The film touches on the negative effects of global warming and deforestation as wildlife is forced to adapt to the disruptive changes around them, although the message is not too in-your-face.
A Reindeer's Journey will delight the whole family as it transports them into Ailo's world while he explores it for the first time. The film's breathtaking cinematography and playful wild animals will capture the heart of children. Though the film includes scenes of predators chasing their prey and catching them, the actual kill is not shown so it won't frighten young ones, but it may sadden them. This film is sure to entertain everyone and earns our Dove-Approved Seal for All Ages.
The Dove Take:
This spectacular documentary includes stunning landscapes and close up encounters with wild animals which will captivate and enchant all ages.
Content Description
Integrity:
Ailo's mother displays commitment, sacrifice, and selfless love to Ailo as they journey together. Ailo shows determination as he overcomes difficulties along the way.
Violence:
Several predator animals chase their prey and catch them, but the actual kill is not shown. Two dead reindeer are seen frozen in ice. Reindeer bulls buck each other, getting their antlers entangled.
Info
Writer:
Morgan Navarro and Marko Röhr
Industry Rating:
Not Rated