Believe, Become, Be
Theatrical Release:
November 25, 2019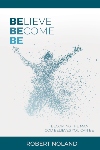 Synopsis
What if God told you He believes in you? How might that divine affirmation affect your daily battle between your faith and your flesh? What if your Heavenly Father said He believes you can lead a life of purity, truth, righteousness, and be a man after His heart? You can effectively lead your family, right wrongs in your world, and influence the culture in His name? God not only has a uniquely designed plan and purpose for your life, but wants to walk beside you as His adopted son, moment-by-moment offering His Spirit to change, transform, and walk in His will and His ways.
Dove Review
The Review:
Robert Noland's Believe, Become, Be takes a modern look into the heart of Christians and offers guidance pertaining to how they ought to live their lives in a way that not only reflects a follower of Christ, but a follower who does not turn their back on today's culture. This strategy is meant to suggest to Christians an openness and availability that is necessary for reaching out to non-Christians. Noland's primary target audience for this novel is young and older men of the faith, but that does not negate those of another age and gender, as all people can learn a thing or two from the book's many poignant lessons.
The book is split in three sections, all of which deal with a different aspect of Christian life and how it was meant to be lived in a way that properly reflects God. Noland explores heavy topics throughout his book, such as sexual immorality, to their core, and provides numerous examples of how and why such roadblocks come about in Christian life. A pastor himself, Noland also recounts many of his experiences with fellow male churchgoers in order to prepare the reader for the insight he is about to deliver. From these experiences, Noland puts together numerous theories pertaining to the "root" of an issue, which ultimately leads to many more revelations revolving around the varied subjects.
But no revelation goes without evidence. Not only does Noland use his own experiences, he utilizes a great number of Bible verses as well, masterfully combining the two to prove his points. Noland also draws from people within the Bible, such as King David and Jesus Himself, to drill his message in even more. By making use of the Bible, Noland makes it very clear to his readers that he means business. He pulls no punches with this book, making sure to give nothing but the rawest of truths to his readers, whether they want it or not.
Believe, Become, Be is without a doubt a profound book for struggling and thriving Christians, as well as non-believers. However, the content that is presented is often very heavy and thought-provoking, encapsulating many aspects of both Christianity and modern life that would more than likely confuse, or overwhelm, younger readers. Noland is never afraid to hit readers with the real-life effects and consequences of his subjects, which could lead a younger reader to ponder more than they were meant to at their age. This is not meant to dissuade younger readers from taking up the book, only tell in advance that Noland's book is much more mature than what a young child might be used to reading and could lead to them coming across something they don't quite understand yet.
The book itself is written very well, and in a form that is easy for anyone to read through it. Noland goes through great lengths to keep his promise to readers that his book was meant for anyone to read, as its style is as though spoken by the everyday person. Throughout, he adds his own flair of humor and provides examples that put many elements of Christianity that, at any other point, would come off as confusing to a non-believer, puts things into perspective and makes it a much easier pill to swallow. It is a true testament to "actions speak louder than words," an element that many people, Christians and non-believers alike, tend to overlook or underuse.
With less than 300 pages of content, Noland's book offers plentiful and lasting content on the topic of how Christianity must be portrayed in the modern times. Living a Christian life is no easy thing, and it requires a great deal of discipline and humility. Noland makes sure to let readers know this early on in his book by starting them all off at square one and filling them in on what to look out for, both good and bad. Believe, Become, Be is a book that starts begins its journey with a sprint, ensuring that it does the job it was meant for and speaks to those who decide to pick up and read it. Though it may seem like a quick read to some, it would be within any reader's best interest to take their time with it, as each and every element in it is meant to help all people strengthen their walk with God. Such a thing can never be done in a short period of time, nor a single readthrough.
Content Description
Faith:
There is a great deal of faith in this book, as it serves as its very foundation. Noland combines his knowledge of the modern world's culture and combines it with the Bible, conveying a picture of how Christians should live their lives through example, and then provides numerous examples over the span of 18 chapters of obstacles that Christians must always avoid.
Violence:
There is mention of sexual and domestic violence and abuse, but only in the context of the lesson.
Sex:
There is a significant amount that is mentioned in the book, however, it is all within the context of temptation and the consequences giving in could create. It is one of the many the faith-based lessons that Noland teaches.
Violence:
There is mention of sexual and domestic violence and abuse, but only in the context of the lesson.