Chicken Soup for the Soul: Believe in Miracles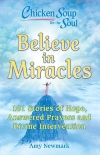 Synopsis
Sometimes things happen throughout our lives that cannot be explained. Whether you believe in miracles, divine intervention or the power of prayer, life is full of surprises that will inspire and encourage you.
Dove Review
Chicken Soup for the Soul: Believe in Miracles is a collection of heartwarming stories of real-life experiences that recount amazing and unexplained events that have occurred in the lives of the contributors that will leave the reader with a feeling of awe and wonder.
The book contains countless stories of miracles that have no explanation. From the mysterious phone that buzzed to reveal the answers to a medical mystery, to a young boy mysteriously being lifted from a watery grave, this book reveals the mystery and power of unexplainable circumstances in our lives.
Although it's not always understood why things happen the way they do, sometimes you just can't argue with the outcome. In fact, you just might celebrate it!
The Dove Take:
The next time you get stuck in traffic or feel compelled to stop and talk to a stranger, don't question your instinct. It might just be an opportunity to receive a miracle – or to realize one for someone else!