JESUS
Theatrical Release:
April 7, 2020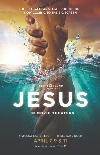 Synopsis
From the streets of Jerusalem to the raging Sea of Galilee, Jesus befriends outcasts and heals the hurting. He challenges social norms and confronts hypocrisy. He sets sail with fishermen and reasons with religious scholars. And the lives he touches will never be the same.
Experience the action-packed musical stage adventure that takes you on a miraculous journey alongside the most famous person ever to walk the earth and the everyday people whose lives he changed forever.
Dove Review
I grew up in a Christian home and went to Christian school–elementary school, middle school, high school, undergrad school, and graduate school. No joke.
In elementary school, my hometown put on an annual performance of The Easter Story. In middle school, I participated in Godspell. In high school, I saw a professional play in Pigeon Forge, Tennessee that presents Christ's earthly ministry and His death, burial, and resurrection. Needless to say, by age eighteen, I could write my own play about Jesus. Name a miracle, a parable, a disciple, and I've got you covered.
Before watching Sight & Sound's play production of JESUS, I did what most people do and I made my own assumption– not that it would be bad (because hello, Jesus is always good)– but that it would be predictable. Well-performed? Likely. Predictable? Highly likely. But, just as my assumptions tend to go, I was wrong.
For once, a director, author, whoever, showcased women's powerful role in Christ's ministry– a role outside of Mary Magdalene washing His feet and the adulterous woman being saved from being stoned to death. Peter's wife shows up on the scene and with the help of several other female characters, they minister to Jesus' mother, Mary, and serve as accountability to Peter and the disciples. Jesus talks with these women. He loves them, jokes with them, and gives them a platform that society wouldn't dare provide.
This performance takes the liberty to insert additional dialogue outside of the New Testament gospels–nothing sacrilegious–but rather, encouraging. After Jesus smears clay on the blind man's eyes and tells him to go wash his face, Peter asks God why He would make such a messy scene. Jesus replies, "Sometimes, things have to get messier before they can truly be clean." What a parallel to His crucifixion and later, His resurrection, right?
Of course, the plot line follows Jesus' miracles, like feeding 5,000 people and Peter walking on water. It scripts The Prodigal Son and shares Jesus' lesson of how much more important we are than the lilies of the field. The props, music, and actors allow His three-year ministry to flow and blend Christ's greatest teachings. Eventually, the Pharisees do what judgmental bullies do and they had him crucified, but as we all know, Jesus' power and love bring Him back to life in a beautiful resurrection scene.
Parents need to be ready for a theatrical depiction of Christ's crucifixion. Theater blood covers his body, but it isn't presented in such a gory way that children can't view the scene. Though the conversation is in no way appropriate (because, again, Jesus is so good at all things), but topics like adultery and demon possession are present, which might open the door for parents to discuss these heavier themes with older children.
JESUS offers a beautiful, professional theater rendition of just how kind, sacrificial, and loving God's Son is– and how kind, sacrificial, and loving we are called to be. This production earns our Dove-approval for All Ages.
The Dove Take:
Sight & Sound's production of Christ's ministry, death, burial, and resurrection showcases how personal our God is, while sharing stories of the women and sinners that Jesus refused to bypass.
Content Description
Integrity:
Biblical love, forgiveness, and salvation as constant themes; Women are given a great role in the faith.