Romance in the Outfield: Double Play
DVD Release:
April 6, 2020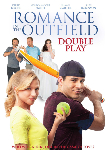 Synopsis
Tyler comes home from an injury that could end his career and ends up coaching in a high-stakes game of softball, against Kenzie, a pretty face, a feisty coach and a woman with whom he has history. They don't exactly hit it off in the game opener where she pitches him some love of her own, but in the game of love—competitiveness and love don't mix. They must rekindle the love they once had and learn to forgive and forget, leaving behind their complicated history. Love strikes in different ways when Tiffany, the iconic good girl, is running away from her vows, and randomly jumps into a car with Chase, a free-spirited Maverick—who quickly sweeps her off her feet and leaves her questioning her faith and values. Tyler must choose what's most important between a career and love, and Kenzie must let go and give him a second chance. Will he choose his baseball career over her? And will she steal his heart, or strike out in the game of love?
Dove Review
Romance in the Outfield: Double Play is a romance film following the lives of twins, Tyler and Tiffany, as they find love and overcome heartache. Throughout the film, the most important quality to both of them is that their partner loves Christ as much as they do.
Tyler is an ex-major league baseball player who left the game due to injuries. Throughout the film, he is helping a friend by substitute coaching his softball team. He still has feelings for his ex, Kenzie, who is the coach of another team. The movie quickly shifts to Tiffany getting into the car with a ride-share driver named Chase, as she runs from her own wedding.
As the plot develops, viewers learn that Tiffany was eloping with Tyler's best friend, Brandon. She develops feelings for Chase behind Tyler and Brandon's backs. Tyler does not know that Brandon and Tiffany were involved with one another as he works to win over Kenzie's heart again. The plot is further twisted by the fact that Tyler's ex-wife, Heather, is dead.
Romance in the Outfield: Double Play is a wholesome film for the whole family. The movie is very well made—the setting is pretty, the camera is steady, and the audio is clear. Because of the clean content throughout the film, and thanks to Tyler and Tiffany's search for a spouse who is just as passionate about Christ, Romance in the Outfield: Double Play is Dove-approved for All Ages.
The Dove Take:
Romance in the Outfield: Double Play is a family-friendly romance that takes a clean approach to blending romance with faith.
Content Description
Faith:
Characters rely on God to help them find their life partners. Christianity and faith arediscussed throughout the film. Tiffany ends a relationship becausehe doesn't share her beliefs.