Maximilian's Treasure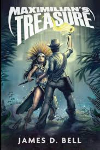 Synopsis
Rumors of a legendary treasure trigger a battle over possession of a Choctaw family farm. Two young lawyers, John Brooks and Jackson Bradley, agree to help the family keep their farm. Early legal success prompts the drive-by murder of the patriarch of the family. The grandson chases the suspects whose bodies are found on the farm, scalped. At the same time clues to a vast treasure are found on the farm. Jackson, pursued by fortune seekers, adventurers, an exotic beauty and a homicidal maniac, follows the clues from a Caribbean reef to the Chiapas jungle. John stays behind to defend the grandson and continue the fight for the farm. His efforts are complicated by arson, murder, race riots, and the realization that he lost his one true love. Though there is great distance between them, their adventures are intertwined as they rush toward a triple climax that could shake the world.
Dove Review
Maximilian's Treasure has it all — a lot of legal thrills, a little bit of romance, the occasional scalping, an adventurous pursuit of gold that takes us from Mississippi to Hispaniola and Mexico and just enough unmistakable-but-not-preachy Christian message sprinkled in to weave it all together.
We follow attorneys John Brooks, who's a Christian, and Jackson Bradley, who's not, and they start out by going to extraordinary lengths to protect a Choctaw family's farm from those who want to twist the foreclosure process as a means to swiping land on which they are certain that an ancient treasure — last located by an executed, 19th-century Mexican emperor named Maximiliano — can be found.
Out of the fertile soil of this setting in Philadelphia, Miss., all kinds of subplots emerge as the pursuit unfolds — a race war, an episode of arson, a drive-by murder with the heavy scent of frame job . Each is spun in intense, riveting detail, with a dollop of humor when you least expect it. All roads lead to a mad dash for a treasure that not everybody's certain even exists.
Bell brings a realism to his writing borne out of his career as a Mississippi Circuit Court judge and out of his family background — he's part Choctaw — that fuels the enjoyment of reading his work. Even more, at least three of the characters are based on real-life people who recently passed away, including Bradley, who died in 2001. In fact, Bell even inserts himself as a minor character late in the book. We won't spoil the ending for you, but suffice it to say that it's a wild ride to the finish. Due to some mature themes, Maximilian's Treasure merits the Dove-approved seal for Ages 12+.
Content Description
Faith:
Brooks prays for God to guide the outcome of a case, not that he would win, but for the truth to prevail; Robert and Jake, both diagnosed with cancer, witness about Jesus to Jackson; Jake later prays for God to lead Jackson to salvation; Natalia baptizes a man she leads to Christ.
Language:
No curse words, but if characters' dialects are reproduced. Some may regard that as demeaning, though that hardly seems to be the author's intent.
Info
Company:
Sartoris Literary Group