A Song of Love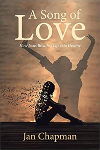 Synopsis
This hope-filled story will inspire you to conquer adversity. The truth is, God has already been composing "a song of love" in your life. Discover His amazing power that can unleash barriers and chains. Even from depths of great sadness, there truly is hope: God is calling you to a song of love.
Dove Review
In her book, A Song of Love, Jan Chapman shares her journey to a deep bond with Christ. She elaborates onpersonal instances where she felt God's presence through trials, personal reflection, and mission trips. The book is written mostly in the form of a conversation—many of the chapters consist of back and forth dialogue between Chapman and God.
A Song of Love reads more like a journal of personal reflection than a narrative book. It contains some stories, but there is lots of raw, rich conversation between her and God. Sometimes, Jan takes the conversation to the readers too.
Chapman's experiences truly are remarkable. It's hard to fathom the level of communication that she has with God if the reader hasn't yet experienced it. Chapman provides a glimpse of the intimate relationship that can be had with The Lord. She gives detailed explanations of the ways in which God has communicated to her throughout her numerous trips to Haiti, her heartbreaking divorce, and other very difficult times in her life. Chapman shares what it feels like to lose friends in the wake of a failed marriage and she describes the feelings she's had when God speaks directly to her. In many ways, her real-life experiences are miraculous.
Chapman does a wonderful job of sharing details of her personal experiences through dialogue, storytelling and even the inclusion of personal photos from her trips. She gives readers a glimpse into her heart as she converses vulnerably with The Lord. After reading A Song of Love, readers come away with a sense of understanding of the type of relationship they can have with God. Jan Chapman is a remarkable example of how God can take seemingly terrible situations and use them for good all while vividly revealing Himself, His love and His mercy time and time again.
A Song of Love is Dove-approved for All Ages.
The Dove Take:
A Song of Love reveals the heart of a broken woman who is healed by the love of Christ through discovering His plan for her life and through vulnerable dialogue with Him.
Info
Company:
Christian Faith Publishing