Wind In The Willows: Summer Escapades
Theatrical Release:
August 4, 1999
DVD Release:
August 4, 1999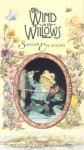 Synopsis
TOAD: PHOTOGRAPHER – On Mole's advice, Toad decides to commission a photograph of himself to put on the wall at Toad Hall and even though he's never picked up a camera before in his life – Toad decides that if anyone takes his portrait for posterity, it'll be him!
THE GREAT GOLFIN GAMBLE – It doesn't take Toad long to tire of playing croquet, so he decides to play a more challenging game, like golf. When the Weasels challenge him to a round on Toad's luxurious one-hole golf course, he is horrified to discover that he may lose Toad Hall as the result of a foolish gamble.
GRAND ANNUAL SHOW – Who will win the Grand Annual Show Silver Cup? Could it be Mole with his black-currant jelly of Ratty and his walnut cake? Badger with his pickled walnuts or Toad and his "home-made" Elderberry wine? Only the judges can say at the Grand Annual Show.