The Tailor Of Gloucester
Theatrical Release:
August 4, 1999
DVD Release:
August 4, 1999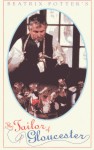 Synopsis
Welcome to the wonderful world of "The Tailor of Gloucester"- Beatrix Potter's well-loved story of the poor tailor who receives a last minute commission. He has the honor of making the wedding coat for the Mayor of Gloucester for his wedding on Christmas Day, but can he finish it in time?
Beset by illness and unable to complete the work, his little friends the mice come to his rescue and, with their exquisite workmanship, finish the task in the nick of time.
This Dreamscape production stars Ian Holm, Thora Hird and Benjamin Luxon, with an international cast of young singers and dancers, and is the first musical since the famous film of the ballet" The Tales of Beatrix Potter".
Info
Reviewer:
Carol Verbrugge