Adventures Of Elmo: Sing and Play
Theatrical Release:
September 7, 1999
DVD Release:
September 7, 1999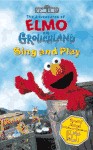 Synopsis
Elmo's back in Grouchland to sing some of his favorite songs with his new friend Grizzy. There's just one problem – Grouches aren't supposed to cooperated, so Grizzy won't sing along. Never discouraged, Elmo starts singing his favorite Sesame Street tunes, and before long, Grizzy joins in while still being a grouch!
Features three songs from the new motion picture, The Adventures of Elmo in Grouchland.