Unquestioned Answers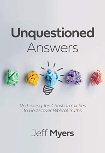 Synopsis
We hear and say short Christian clichés all the time, such as "Jesus was a social justice warrior," "Just have faith," and "It's not my place to judge." These trite statements often go unquestioned. Sometimes they even substitute for truth, leading to a fragile and shallow faith. But what if a close study of these clichés could lead us to deep biblical truth?
In Unquestioned Answers, Dr. Jeff Myers rethinks ten popular Christian clichés. Through an in-depth and fresh look, Myers shares insights into these overused statements to strengthen readers' faith and encourage them to share Jesus with others. Walk with Myers on a path to biblical truth as he explores critical topics such as social justice, faith, sin, loving others, God's goodness, prayer, and more.
Dove Review
In Unquestioned Answers, Jeff Myers discusses his own journey from a surface-level relationship with Christ to a relationship with vulnerability, honesty and trust. Throughout the book, Myers tackles 10 common faith-based answers that typically go unquestioned. His introduction serves as a road map for the entire book. Myers introduces himself and his topic, the specific questions he wants to address, and how he plans to address them.
While introducing himself, Myers says, "I needed to write this book because I needed to read this book" (Myers, p. 22). He discusses his upbringing in a Christian household and attending a Christian school. As a child, Myers questioned the things that no one questioned—like, "What if Christians are wrong?" Eventually, he began to question the 10 core truths he writes about—the truths that no one seems to wonder about, such as "love the sinner, hate the sin" and "Christianity is a relationship, not a religion." He then took it a step further: maybe Christians are meant to dig deeper—maybe the key to closeness with God is asking questions and finding better answers than the ones that we accept with little to no evidence. In Unquestioned Answers, Myers shares all of these experiences and more, offering what feels like a one-on-one conversation with someone who has experienced skepticism and has found answers to the questions that no one seems to want to ask.
Myers does a great job of backing all of his statements with Scripture and personal experience. Each chapter tells a story, then addresses the origin of each truth, the evidence supporting it (both within the Bible and in life), and he then discusses it, using the Bible as his source. By starting with his own story in the introduction, and introducing each truth with a story, Myers establishes a relationship with his readers. He shares his humanity, which makes him someone relatable who is telling the truth from experience, not from what he's read or heard.
Unquestioned Answers is a great read for anyone looking to dig deeper into the Bible and their relationship with Christ. It is especially great for those who may have grown up accepting truths without really exploring the reasoning behind them (myself included). Myers wonderfully breaks down each answer and ties them together seamlessly. Each chapter includes questions for discussion and further self-exploration.
Myers' writing style is exceptional. His paragraphs flow into one another very well and he never fails to cite his sources. It is clear that he has done extensive research on each of his chapters, which adds to his credibility on the topic. Above all though, Unquestioned Answers is interesting. It's easy for books like Unquestioned Answers to read like textbooks—with no relationship or story. But, because Myers establishes a relationship with his readers, his book feels real and captivating.
The conclusion to Unquestioned Answers recaps the majority of the statements made throughout the book in a clear and concise manner. The final discussion questions allow for reflection upon the book in its entirety. As a whole, Unquestioned Answers brilliantly highlights some of the most clichéd statements about Christianity and the Bible that many people tend to blindly accept, and it does so in a way that is understandable, thorough, and entertaining.
Unquestioned Answers is Dove-approved for All Ages.
The Dove Take:
In Unquestioned Answers, Jeff Myers discusses 10 widely accepted Biblical truths through the lens of healthy skepticism and proves their origins and accuracy through Scripture and personal reflection.
Content Description
Violence:
Chapter six discusses Nazi Germany and the torture inflicted upon those of Jewish descent.
Violence:
Chapter six discusses Nazi Germany and the torture inflicted upon those of Jewish descent.
Info
Company:
David C. Cook/Summit Ministries