Jingaroo: Outback Grand Prix
Theatrical Release:
October 22, 1999
DVD Release:
October 22, 1999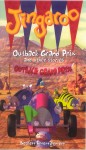 Synopsis
Outback Grand Prix: It's a contest of skill, endurance and sportsmanship. The crew heads to the Outback for their annual grand racing championship. As the dust settles, it's clear that a true winner doesn't have to cheat to cross the finish line first.
Kumquat Hop: The crew is getting ready for their favorite summer festival…the Kumquat Hop. Jabiru's misplaced invitation causes him to feel left out. Only the truth can heal Jabiru's feelings of rejection.
Sleepwalking Sydney: After stuffing himself with too many swamp tamales, Sydney quickly drifts off to sleep. In his dream, Sydney's biggest hopes and worst fears come to life! He awakens to understand the difference between dreams and reality.