Century That Made America Great-Vol. I
Theatrical Release:
December 8, 1999
DVD Release:
December 8, 1999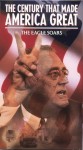 Synopsis
The Eagle Soars – Volume One
Be there when Teddy Roosevelt opens the massive Panama Canal. Watch in amazement as Orville Wright takes off – and makes history – at Kitty Hawk. See "Lucky Lindy" land in Paris, completing the first-ever solo flight across the Atlantic. The drama of two World Wars unfolds as Woodrow Wilson sends our boys "over there." Decades later, the attack on Pearl Harbor is overshadowed wen the allies triumph on D-Day. American aviation booms with the great planes of Douglas and Boeing. FDR, Truman, Ike and JFK occupy the Oval Office. Nixon visits China's Great Wall-twenty years before Germany's Berlin Wall is torn down. Go into battle with General Schwarzkopf and Operation Desert Storm.