Century That Made America Great-Vol. 3
Theatrical Release:
December 8, 1999
DVD Release:
December 8, 1999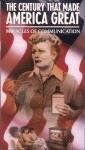 Synopsis
Miracles of Communication – Volume Three
Listen to the eloquent turn-of-the-century orator, William Jennings Bryan. Share important historic events with our country's most trusted newsman, Walter Cronkite. Laugh at the comedy antics of Jack Benny, Fred Allen, Fibber McGee and Molly. Be there for the Nixon-Kennedy debates and the Civil Rights Movement. Enjoy the wonderful moments with Bogart and Bacall-filmed in their living room-right from your living room. Get to know a few genuine Hollywood legends and legends-in-the-making, including Lucille Ball, Jackie Gleason, Bob Hope, Marlon Brando, and Frank Sinatra-right up to the present with David Letterman.