The Prince and Me (2004)
Theatrical Release:
April 2, 2004
DVD Release:
August 10, 2004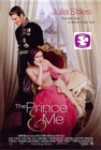 Synopsis
In this romantic comedy, Paige Morgan (Julia Stiles) is a good ol' country girl from Wisconsin who, wanting to avoid a mundane existence, ambitiously seeks a future as a medical doctor. In the midst of pursuing her dreams, she meets Frederick (Luke Mably), a Danish foreign-exchange student who wants to experience the life of the American college student. Paige, not wanting anything to distract her from her goal, resists Frederick's pursuit of a romantic relationship. But Frederick, in spite of the repeated rejection, continues to try to win her heart, and in time Paige begins to cave in. Her determination and her focus on her studies take a back seat to her desire for Frederick, which plunges forward. There is one catch: Frederick is Prince Edvard of Denmark. As the truth is unveiled, Paige must decide if she will choose to pursue her career as a medical doctor or drop it all to be with the one she loves.
Dove Review
This is a film about big decisions and priorities in life. It's about knowing the difference between a personal desire and what's really important. The Prince and Me shows two people who make right decisions in spite of the grief and sorrow they may face. The film is both hilarious, keeping the laughs coming throughout, and thought-provoking, as it spurs introspection regarding decisions of the heart. The film includes a few verbal references to having sex, and a scene where women on television lift up their shirts. Also, in the first third of the movie, the a-word and the s-word are used.
Info
Writer:
Mark Amin and Katherine Fugate