Night Of The Twisters
Theatrical Release:
December 16, 1999
DVD Release:
December 16, 1999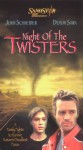 Synopsis
The people of sleepy Blainsworth, Nebraska, have no idea of the deadly, unpredictable storms heading toward them-rogue tornadoes that will change their lives forever. There are already storms brewing between young Canny Hatch and his father, Jack (John Schneider), a former football star who is disappointed in his irresponsible son. Danny is home alone, baby-sitting his baby brother when the monster twisters suddenly whirl through the unsuspecting town! Now, Danny must begin a long struggle to survive the night and rescue his family…through downed electrical wires, broken gas lines, and a heart stopping final escape from the twisters' fury.
Based on actual events and packed with real tornado footage and special effects, this gripping film is both a thrilling look at nature's deadliest force and a testament to one family's struggle to survive against the odds.