Beyond the Unthinkable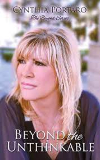 Synopsis
After the deaths of her two children and then her husband two years later, first time author Cynthia Portaro began ministering to many grieving parents, widows, and friends who have lost children and family tragically from untimely deaths. In this book, she shares her pain and how she overcame beyond the unthinkable.
Dove Review
I just wanted it to end.
It's only 170 pages, cover to cover, but that's how Cynthia Portaro's power-packed memoir of grief, Beyond the Unthinkable, smacks the reader between the eyes. It's a heart-rending modern-day tale of loss that should in some ways remind Bible readers of the Old Testament book of Ruth — only if it were told from Naomi's point of view, after she lost her husband and two sons. That's relevant because the author, undeniably awash in sorrow, is a born-again Christian since 1998, and everything she writes comes from the winning perspective of person who knows Jesus.
Ms. Portaro's 22-year-old son, Michael, was shot and killed senselessly in Las Vegas 10 years ago, and her pain remains as palpable as the wee hours of the morning in which the police showed up on her doorstep. If that wasn't hard to enough to bear, her 16-year-old daughter Chrissy died in an ATV accident at the family's favorite vacation site in Utah only six months later. And while she was still processing those two, her husband Richard died of cancer on a Thanksgiving Day just two years later.
Oh yeah, and while all this was happening, she had her own run-in with colon cancer, too. It almost feels like Ruth with a helping of Job thrown in for good measure.
If you're looking for a sugar-coated book of bromides and clichés on how to deal with the death of a loved one, this ain't it. This is a journal in which she invites the reader to walk with her, step by step through how she dealt with — is still dealing with and certainly will always be dealing with on this side of Heaven — the excruciating pain a parent feels in losing a child. You won't find her telling you how to "just get over it" or how long it should take. Just the opposite, you'll be fully drawn into the muck and mire of the "Suck Club" with "Momma P." Doubtless, it will help anybody dealing with loss, and especially those blindsided by tragedy, as she was. She succeeds in such a way that, with each turn of the page, you long for the last one: "Please, God, let this be over."
If you're not already there, you will be in her shoes eventually, inevitably, but whether we triumph will be based on how we answer the gut-punch. This is the Christ-like way she did it: She forgives the man who killed her son, even insisting to the judge and a reluctant prosecutor that the convicted murderer be spared the death penalty. He eventually was sentenced to 28 years with the possibility for parole, but it was still a bitter pill, and she lets you on in on what it tasted like every step of the way.
The book also is a triumph in that it helps those who don't know how to deal with a person who's grieving. Sometimes laughter helps and is not insensitive. "Grieving stages mean allowing enough time to remember your losses and feel your pain, as well as embracing occasional opportunities to distract ourselves and regroup," she writes. "This is what I call, 'Walking through what you will never get over!' "
She doesn't want the reader to fake it until they make it. In bold, all-caps letters, she fairly screams, "DO NOT ACT SO STRONG AND TRY TO FOOL PEOPLE INTO THINKING (YOU'RE) HANDLING THIS AMAZINGLY." But you can make it, once you conclude what she does: "There is no time limit on grieving … it truly is the price we pay when we love somebody so deeply. Especially your offspring."
We award this book the Dove-approved seal for Ages 12+, given that the material is aimed at a more mature understanding of loss.
The Dove Take:
Momma P keeps it abundantly real with the reader, who no doubt will wonder how in the world she dealt with as many body blows as she did. But she lives to tell the tale.
Content Description
Faith:
Repeatedly, the author leans on her relationship with God, on the truths of Scripture as she copes with unthinkable tragedy.
Language:
One instance, where in a moment of grief, the author relates using the F-word as she screamed at God. The word is not spelled out, however.
Info
Company:
Cyn'Sational Publishing