Olympians at Heart
Theatrical Release:
June 28, 2021
DVD Release:
June 28, 2021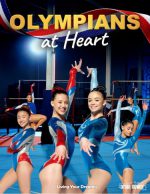 Synopsis
Competition between rivals is expected. Competition between fraternal twins is a separation that brings heartache and unhappiness to all concerned.
Dove Review
**This review is contributed by Super Channel—a channel dedicated to providing integrity and accountability in today's entertainment.
Gymnast enthusiasts will be delighted to see the real Chellsie Marie Memmel, American artistic gymnast and member of the US Women's Gymnastics team in the 2008 Olympics, as she makes cameo appearances throughout the live-to-air reporting from the competitions. She has won seven World Championship and Olympic Medals and is an inspiration to young gymnasts with dreams of reaching that championship status.
Fraternal twins Essie (Chiara Diberto) and Ella (Noa Diberto) do everything together and are both on the same team in Artistic Gymnastics. They're best friends, only closer. They finish each other's sentences, share a secret handshake and cheer each other on at gymnastics events. Their dad Jason (Pat Dussault) supports their special bond and makes sure they never take it for granted. All the girls on their gymnastics team, the South County Flyers, share encouraging words, comforting hugs, and supportive cheers.
But they are the underdogs and are nervous about qualifying for the Nationals, their next big venture. The rival All Star Airborne girls are from Haven Manor and have every advantage in life … the right uniforms, the best facilities and top-notch coaching. Mira (Julia Lowe), their captain, is serious about winning. No way will Mira let another team win. Let alone girls from the other side of town.
When an injury sidelines the Flyers' star athlete, Essie and Ella both have a chance at her spot at the upcoming meet. The twins are divided for the first time in their lives. Their bond begins to fray. A great dad, Jason stays neutral.
Ultimately, their coach, Nicole (Lindura), is forced to choose… Essie. Ella is hurt and dejected. Scheming to break up the Flyers, Mira recruits Ella. Determined to prove herself, Ella accepts.
At the Nationals, the air is tense. Essie learns what it is to compete without her twin. Ella learns what it is to compete on a team without mates. Through injury, pride and team spirit, Essie and Ella decide that winning at any cost is not at all worth it.
The Dove Take
This inspiring movie instills the importance of placing family loyalty before personal and selfish ambition while giving the viewer an insight into the competitive and spectacular world of artistic gymnastics. Dove approved for all ages.
Content Description
Faith:
Story is not faith-based as such, but a "Bless this House" sign is at the front entrance indicating a belief in God.
Info
Company:
Brain Power Studio Inc.
Industry Rating:
Not Rated