Dinner Game
Theatrical Release:
July 9, 1999
DVD Release:
July 9, 1999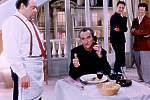 Synopsis
A stuffed shirt and his friends play a cruel game of each inviting a person they consider an idiot to a party. There they plan to mock the unsuspecting guests. But the newest victim innocently turns the tables on the snob. French farce, with subtitles.
Dove Review
This French farce (with subtitles) contains very funny slapstick, mixed with drawing room humor. By film's end, life lessons are learned concerning the foolishness of belittling others. If you are not put off by subtitles, this is a lot of fun.
Content Description
for several obscenities and mild expletives, but I caught no profanity; it is implied that one man is having an affair, but there are no sexual situations.
Info
Reviewer:
Phil Boatwright