Mystery Men
Theatrical Release:
August 6, 1999
DVD Release:
August 6, 1999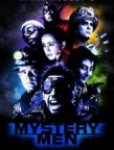 Synopsis
This comic adventure is about a group of inept super "heroes" who ban together to save the community's leading guardian of safety, Captain Amazing. The group consists of the Blue Raja, who dresses in green and throws spoons, never knives. Then there's Invisible Boy – who isn't. The Bowler carries a bowling ball with the skull of her dead but telepathic father. Mr. Furious… well, that pretty much sums him up. Then there is the Shoveler, who wears his son's Mutant Ninja vest and wields digging tools. And last, and certainly least, we have the Spleen, whose super power is deadly flatulence.
Dove Review
Loosely based on the Dark Horse comic, it's not exactly a brain teaser, but there are many funny moments as our unskilled heroes attempt to rescue the town's main crime stopper, Captain Amazing. The comedy ranges from slapstick to droll cynicism. Despite the Spleen's gift for powerful flatulence, the humor is fairly tame. It contains life lessons, including believing in yourself and pulling together when times are tough.
Content Description
or mild expletives and mild crudity, including flatulence jokes; the violence is all comic-bookish, with the team possessing nonlethal weapons.
Info
Company:
Universal Pictures
Reviewer:
Phil Boatwright