Universal Soldier: The Return
Theatrical Release:
August 20, 1999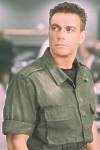 Synopsis
This action-packed sequel has Van Damme as a cyborg warrior who has evolved into a human being. Now a technical expert on a special government project dedicated to breeding perfect soldiers, he soon finds himself at odds with other universal soldiers controlled by an insane computer.
Content Description
Obscenity and profanity throughout; intense and brutal violence; sexuality, including nudity.
Info
Company:
Tri-Star Pictures