Adventures Of Elmo In Grouchland
Theatrical Release:
October 1, 1999
DVD Release:
December 21, 1999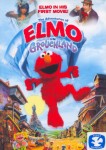 Synopsis
Elmo loves his fuzzy, well-worn blue blanket. They are inseparable. When his friend Zoe attempts to hold it, a tug-of-war breaks out. He's not sharing! When the blanket flies through the air and winds up in Oscar's trashcan, Elmo pursues it. At the bottom of the trashcan, Elmo and his prized possession are sucked down into Grouchland, the yuckiest place on earth. During his action-packed journey, Elmo encounters grouchy creatures, smelly garbage and the greedy Huxley, who flies through Grouchland in his giant flying machine, The Huxocopter, sucking up everything that isn't nailed down – including, you guessed it, the blue blanky.
Dove Review
In this zany interactive film by Jim Henson, Elmo ventures to Grouchland to retrieve his precious blanket that was stolen by the mean villain, Greedy Huxley. Elmo goes through many obstacles and meets many new people while trying to get his blanket back. This movie was not only nostalgic for me, as I was an avid Sesame Street show watcher, but like Elmo, I also would have traveled to the ends of the earth to get my blanket back when I was a child. This movie also shows the importance of working together with everyone to accomplish a goal. In the end, Elmo also learns a valuable lesson about sharing. This movie is educational and is also considered "Talk and Play". At certain times, Elmo asks for the audience's help in things which would allow children to feel like they are part of the movie. I would highly recommend this cute movie to children of all ages and we award the Dove Family-Approved Seal.
Info
Company:
Sony Pictures Home Entertainment
Writer:
Mitchell Kriegman and Joseph Mazzrino
Producer:
Alex Rockwell and Marjorie Kalins