Bachelor
Theatrical Release:
November 5, 1999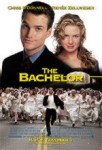 Synopsis
After clumsily proposing to Anne (Renee Zellweger) and being turned down because she senses that he really doesn't want to be "tied down," Jimmy (Chris O'Donnell) goes home to discover that his grandfather has passed away. A bit of a crackpot, Gramps says in a video-recorded will that our hero will inherit $100 million, but only if he marries by his 30th birthday – which turns out to be the next day. Well, this changes his view of matrimony considerably.
Thinking his girlfriend has left the country on business, Jimmy then proposes to several old girlfriends (Brooke Shields, Mariah Carey, Rebecca Cross, Jennifer Esposito) only to be turned down. However, an ad in the paper, placed by his crude friend, brings out every unwed woman in town.
Jimmy has a change of heart concerning marriage and Zellweger. But has this about face come too late?
Content Description
Profanity and obscenity sprinkled throughout; sexual conversations; crude humor; lots of cleavage shots and woman are seen as objects; smoking and drinking; mild violence
Info
Company:
New Line/Fine Line
Producer:
Lloyd Segan and Bing Howenstein