End Of The Affair
Theatrical Release:
December 3, 1999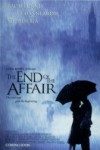 Synopsis
The year is 1939. England is at war. A passionate woman, trapped in a sterile marriage, is attracted to a brooding novelist. They begin an illicit affair. But during the Blitz in London, a bomb hits the house while the couple is in bed. He is nearly killed. Inexplicably and without warning, she breaks off the relationship. Two years later, still obsessed with this woman, the writer reenters her life. It is then that he leans why she had abruptly ended the affair. Thinking the bomb killed him, the lady prays, begging for his life to be spared. If God will spare his life, she promises never to see him again.
Despite her faith, and even after witnessing a miracle, the man still will not believe in God. With disregard for her oath, he persuades her to break her vow. Will there be a price to pay?
Content Description
Profanity and obscenity throughout; disregard for God and followers of Christianity; five sexual situations; nudity; adultery; jealously; a violent explosion where a man is injured; a woman brakes her vows to her husband and to God.
Info
Company:
Tri-Star Pictures
Producer:
Stephen Woolley and Neil Jordan