Season For Miracles
Theatrical Release:
December 12, 1999
DVD Release:
November 29, 1999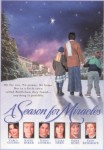 Synopsis
With her sister in a hospital jail ward on a drug charge, Emilie (Gugino) is desperate to keep her sister's two children from being placed in a foster home. She loads them into her old car and skips town. Not knowing where they are going, and with little money, Emilie's problems are temporarily solved when a waitress (Duke) suggests they stay in a house whose owner died and left it to a long-lost niece who never showed up to claim it.
Embraced by the community, including a handsome cop, Emilie and the kids let them believe she is the niece while she tries to figure out what to do. While there, the kids learn what it means to be a family and Emilie falls in love.
Dove Review
Corny and contrived, A Season For Miracles is certainly not Hallmark Hall of Fame's finest two hours. Set at Christmas time in a Southern town called Bethlehem – I guess signifying a place where miracles happen – the producers would have done well to watch a segment or two of Touched By An Angel. The teleplay does address themes concerning forgiveness, anything is possible, and family unity, but although Auntie Emilie keeps saying lying is wrong, she continues to do it, professing no other option. Patty Duke, a guiding angel, surfaces every twenty minutes or so as a waitress, clerk or bartender, to solve a problem – by hook or by crook. Ms. Duke is a seasoned professional, but as written, her angel lacks much depth, sincerity, or charm. Rather than the quality we are used to from Hallmark, this is like TV as usual – time filler. Well, at least the commercials will move you.
Info
Company:
Artisan Entertainment
Reviewer:
Phil Boatwright