Enchanted Tales: Legend Of Su-Ling
Theatrical Release:
January 5, 2000
DVD Release:
January 5, 2000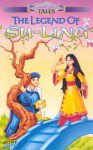 Synopsis
A Far Eastern fairy tale classic springs to life in this richly animated Enchanted Tale of a handsome Prince, the peasant girl he is forbidden to love, and the tiny nightingale who holds the key to their happiness! Despite all his wealth and power, the great Emperor Chao is unhappy. First, his dashing son, Prince Chen, refuses to marry the princess selected to be his bride. And now, the Emperor's favorite bird, a captive nightingale, refuses to sing. Matters grow even worse when Prince Chen and his faithful pet tiger, Tang, run away from the palace. Disguised as a laborer, Chen falls in love with the poor peasant girl, Su-Ling, whose grandfather, Lao-Tsu, just happens to know the secret to unlocking a nightingale's song. Learning this, the Emperor kidnaps Lao-Tsu. But as the disgruntled potentate is about to discover, a caged bird will not sing…just as true love will not be denied!
Dove Review
"Legend of Su-Ling" is a tale of true love and that if it is meant to be it will happen no matter what. This is a wonderful tale about Prince Chen and Su-Ling who find their way to love even though they think they come from different backgrounds that will keep them apart.
"Legend of Su-Ling" is a colorful animated film along with charming songs that bring this tale to life. We award this DVD our Dove "Family-Approved" Seal for all ages.