Cup
Theatrical Release:
January 28, 2000
DVD Release:
July 11, 2000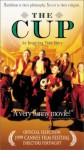 Synopsis
World cup soccer fever takes hold of an order of Buddhists monks. One of the youngest members of the monastery loves soccer. His latest midnight escapade to see a semi-final soccer match on satellite television gets the novice caught by the monastery disciplinarian. The wise and compassionate Abbot, however, does not expel the boy. Rather, he allows the youngster to make a few more mistakes, knowing he will learn a life lesson from the experience. The Abbot even allows the members of the order to view the game on television. Problem is, there is no television in the monastery. The brothers must raise money to rent a satellite dish and television set. While the others put little effort into such foolishness, the little soccer enthusiast struggles to find a way to raise enough money. Nothing is going to stop this little con artist, whose more Dead End kid than holy man. He will do just about anything to get a television in order to watch the final 1998 soccer match between France and Brazil. However, persuading the other monks to turn over all their money to rent the equipment is one thing, but getting the newest recruit to pawn a prized possession in order to raise the final payment, is quite another. It is only then that our young protagonist learns a lesson about what is really important – the nurturing of others.
Dove Review
Based on a true story, it is a gentle, occasionally, irreverent documentary-styled comedy about the struggle to maintain ancient traditions in a high tech world. The film features, and is directed by, real Tibetan monks. The Buddhist monastery serves as the backdrop for the true story. While the film does show this religious order, it does not attempt to proselytize the viewer. However, if parents are going to allow their children to see this film, they should be prepared to discuss with their family why we follow Christ and not the Buddha.
Content Description
Two or three expletives.
Info
Company:
Fine Line Features
Reviewer:
Phil Boatwright