Tigger Movie
Theatrical Release:
February 11, 2000
DVD Release:
August 22, 2000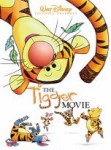 Synopsis
Winnie the Pooh and his pals from the Hundred Acre Wood return to the big screen for the first time in 23 years. In this children's adventure, Tigger decides that being the one and only can be kind of lonely. Although he has wonderful friends and young Roo is a great bouncing partner, he begins thinking that there must be other tiggers somewhere out there. This leads the ever-exuberant Tigger on an amazing journey through the Hundred Acre Wood in search of the "biggest and most gigantical" family tree around. When his search proves fruitless, Tigger's pals try to cheer him up by masquerading as his family and dressing up in tigger costumes. This only serves to deepen Tigger's longing and he stubbornly bounces off into a cold winter storm to find his reclusive relatives. Pooh, Piglet, Rabbit, Roo and Eeyore become concerned and form a search party to find him. In the end, Tigger's heart leads him home and he comes to realize that his family has always been with him – those friends who love and care for him.
Dove Review
A delight for kids! Staying true to the vision of the books creator, A.A. Milne, director/writer Jun Falkenstein (A Winnie the Pooh Thanksgiving) has captured the essence of Milne's vernacular and dialogue. With just the tiniest bit more edge and emotion than previous Pooh adventures, here we see a well-developed character as Tigger struggles with frustration and even anger. The film includes five serviceable new songs from Disney legendary songwriters Richard Sherman and Robert Sherman (Mary Poppins, The Jungle Book). Kenny Loggins also collaborates with the Sherman Brothers on the emotion-filled end-credit ballad, "Your Heart Will Lead You Home." And Harry Gregson-Willimas adds to the whimsy with his background score. If you are looking for good animation, wonderful voice characterizations, and a plot that engrosses little ones, this is a gratifying conception. An enjoyable film for little ones and anyone who fondly remembers the humor, adventure and gentleness of Pooh Bear and his pals.
Content Description
I found nothing objectionable, however, there is one scene featuring an avalanche which may frigthen very little ones. There is also the occasional bad attitude, but it serves to show how we are to behave towards others.
Info
Reviewer:
Phil Boatwright