Next Best Thing
Theatrical Release:
March 3, 2000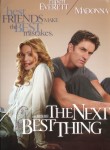 Synopsis
Abbie (Madonna) and Robert (Rupert Everett) are best friends. The only thing that keeps them from a romance is the fact that Robert is gay. However, a day comes when too many cocktails and a twist of fate takes them to a new level of intimacy…and turns them into parents. For the sake of the child, but without a marriage certificate, they decide to live together as a family. Through their lives, they chose to be an unconventional family unit, with each doing his and her own thing, forming other relationships, yet coming home to one another when all is said and done.
After five years of this relationship, Abbie falls in love with another man (Benjamin Bratt). When this unusual relationship proves too confusing for the child, and Abbie wants to move away with her new lover, a nasty custody battle ensues.
Dove Review
I found the material in this comedy/drama extremely offensive due to the mocking of and contempt for Christianity. In an effort to embrace alternative lifestyles, it belittles those who believe the Bible's all to clear instruction about avoiding the practice of homosexuality. Also, the child is exposed to this unusual lifestyle, which causes confusion about sexuality. Although well acted, the filmmakers have an agenda, to cause society to embrace homosexuality.
Info
Reviewer:
Phil Boatwright