Condo Painting
Theatrical Release:
March 17, 2000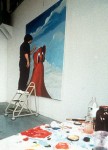 Synopsis
This is a comical look into the surreal mind and daily life of New York City pop artist George Condo. Working in his studio in downtown Manhattan, the humorous and self-deprecating Condo displays his creative process by mixing high art with popular culture.
"Condo Painting" also tracks the existence of Condo's elusive (and often disruptive) muses, entities he refers to as "antipodal beings." These evasive creatures not only inspire this artist, but demand what he will paint, and when. To illustrate these faceless creatures, director John McNaughton incorporates animation of popular television characters, as well as some of the painter's favorite television personalities from his childhood. The animation, combined with original and sometimes discordant music by Danny Elfman, Tom Waits, and Philip Glass, serves as a backdrop for Condo's working process.
Dove Review
A disciple of Beat Generation writer Jack Kerouac, and friends with leftist poets Allen Ginsberg and William Burroughs, the bizarre production allows Condo to ramble on and on about art, society and culture. Very often this diatribe becomes unclear, even confusing for the listener. We see the painter struggling with a new work, one he calls Big Red. This gnome-like cartoon figure looks like a cross between a troll doll and a bebop saxophonist. What it signifies is probably clearer to those who consider a Campbell's soup can high art than it was for me. Although the film successfully showcases the creative process the artist goes through, I found nothing associated with the man or the final product all that satisfying. It is difficult to assess what is and isn't art, but surely the ultimate purpose of art should be to uplift the spirit of man. I left the theater positive that I would have appreciated a tour of a museum far more. Or, perhaps, an evening of Looney Tunes.
Content Description
Language: Jesus 1 – oh God 1- Smoking Adult 1, the artist's muses border on New Age.
Info
Writer:
George Condo and John McNaughton
Industry Rating:
Not Rated
Reviewer:
Phil Boatwright